Outlook Archive Emails as PDF
Save Outlook archive emails as PDF with the help of MSG to PDF Converter.
Do you belong to one of the user group who has urgent requirement to export Outlook emails as PDF? Then no need to worry, this blog gives you complete information about how to export Outlook archive emails as PDF. Before moving towards the solution first we will know :
Why We Need to Save Outlook Archive Emails as PDF?
Outlook is the desktop based email client and one of the finest and mostly used application. It is a personal information manager from Microsoft and includes calendar, task manager, contact manager, note taking, journal and web browsing. Outlook latest edition 2019 supports UNICODE files, On the other hand the edition upto 2000 supported ANSI files. No doubt Outlook is the good email client but there are many reasons which forced users to save Outlook Archive emails as PDF.
PDF files are accepted in almost all fields as legal documents.
Users with limited storage resources can save their high quality files to a relatively small size
Users who want the hardcopy of their email also needs to save Outlook emails as PDF because PDF document can be printed easily.
Files in PDF format can be easily handle and carried.
Some of the businesses handle sensitive information of their customers and want to keep these information invulnerable. PDF files can be protected by password.
There are various other reasons because of which user want to save their Outlook email as PDF, here we have explained most common of them.
Now, that we know the reasons for saving Outlook Archive emails as PDF<, now the next question is how to do it. In the next section, we will explain two methods to save Outlook email as PDF. One of them is the manual method and other one is using professional method, i.e. MSG to PDF tool. Let's move forward with the former one.
Manual Method to Save Outlook Emails as PDF
Open MS Outlook and choose the file you want to save as PDF.
Go to File and select Print option.
Now choose Microsoft Print to PDF option and if you want to embed attachments in PDF again select Microsoft Print to PDF option.
Now move your curser to save attached emails and press it, but this option works only when your printer's saved as default option is on, otherwise it will not save your attachments with emails.
Limitation of Manual Method
The process consumes lots of time hence not the efficient one to opt.
It is not suitable for saving large database as PDF.
Loss of data may occur due to technical error.
The process is technical in working therefore it is not easy for user who belongs to technical background.
Through manual method user have to save emails as pdf one by one, so the process is not suitable for large database and user may get confused and skip some of their important emails that causes hindrance in their work. Now we are going to explain the better alternative to save Outlook archive emails as PDF.
MSG to PDF Converter – Best Option
MSG to PDF tool is the best option available to save Outlook emails as PDF effortlessly. It is a third party software which comes with lots of benefits and features. Let's see step by step working of software.
Download and launch MSG to PDF Tool on your system.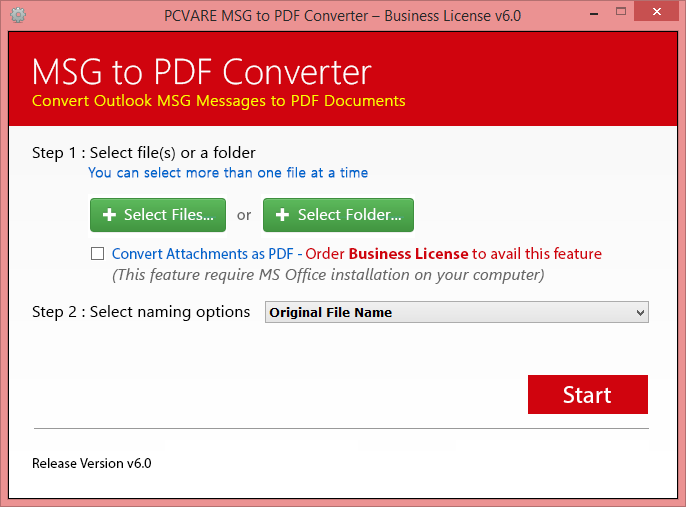 Now select PDF files in Select Files/Folder option and apply advanced filter to save your files as per your requirement.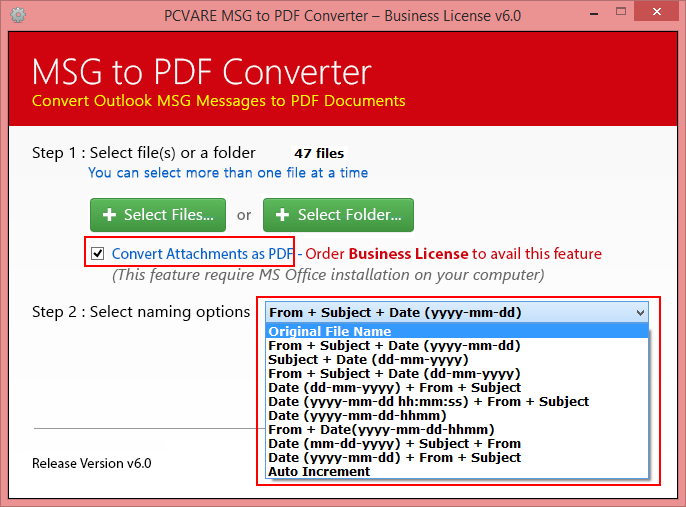 Finally the software start saving Outlook emails as PDF and the process will be competed in few minutes.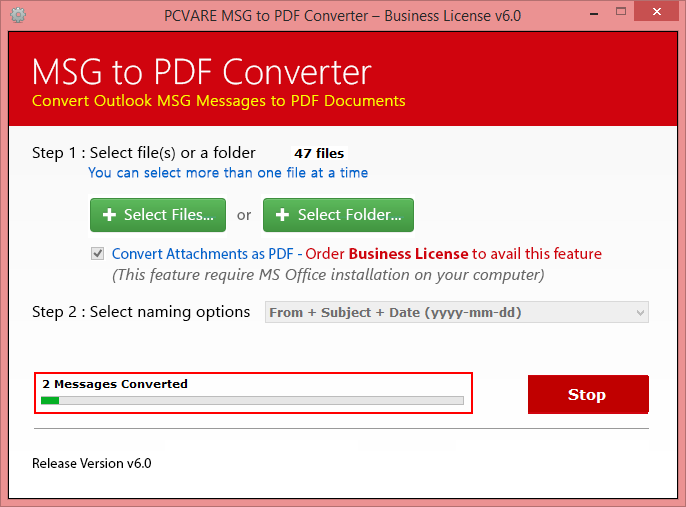 Features of MSG to PDF Converter
Supports all edition of Outlook i.e. 2019, 2016, 2013, 2010 and 2003.
Accurately saves attachments in email as PDF and preserve all the properties of emails and attachments.
MSG to PDF Tool Facilitate Batch Migration it means you can save multiple Outlook emails as PDF in one go.
The software is Windows based and accessible in all Windows version such as 10, 8, 7, vista etc.
It maintains folder hierarchy even after conversion.
The working of software is user friendly and can be easily operated by users from both technical and non-technical background.
The tool supports all the edition of Adobe Reader i.e. 11, 9, 9.5 etc.
The software offers various file naming combination to save your file as per your requirement.
Conclusion:-
In this blog we give you two solution to save Outlook archive emails as PDF easily. One of them is Manual method which is quite technical in working and other one is MSG to PDF Converter which is a third party software. If you want to know more about the software. Then Download its demo version which give you complete preview of the software by saving first 25 emails of Outlook as PDF for free.